After riding 2110k's yesterday I slept really well waking later than usual about 6am. My ride partner, IT, was still asleep so I read the paper on my phone, checked emails etc and eventually got up. I ate my usual in ride breakfast of instant oats, sultanas, dry pineapple and a soy protein drink and we packed the bikes, good to go. here they are outside the hotel room.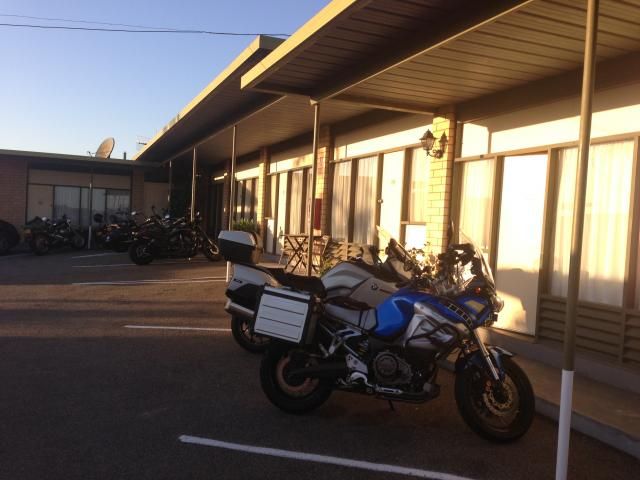 Today's plan was to get to Cobar, ony 450k's or so away by 3pm to finish off an IBA Bun Burner 2500K (2500ks' in less than 36 hours) and depending on how were feeling possibly extending it to ride home by 3am tommorrow morning for a SaddleSore 2000M (2000 miles / 3220kms in less than 48 hours. Because we knocked over a great chunk of that yesterday were weren't under any time pressure for either, it just depended on fatigue if it raised it's head.
So we went to the nearby Shell for morning fuel and re-start docket, the forecourt and adjacent road were adorned with H-D's, black leather and club colours. thankfully all heading the other way, but a sign there would be enforcement about today. No problem though, speed isn't what these rides are about.
Brilliant morning for the ride across the plains. A few scattered goats, plenty of road trains and grey nomads but great vision and opportunity to overtake. Thru' Wilcannia and a road side stop just before Emmdale road house. Didn't want to sit down and we doubt if the goats would have allowed us to do so. They were calm to our presence.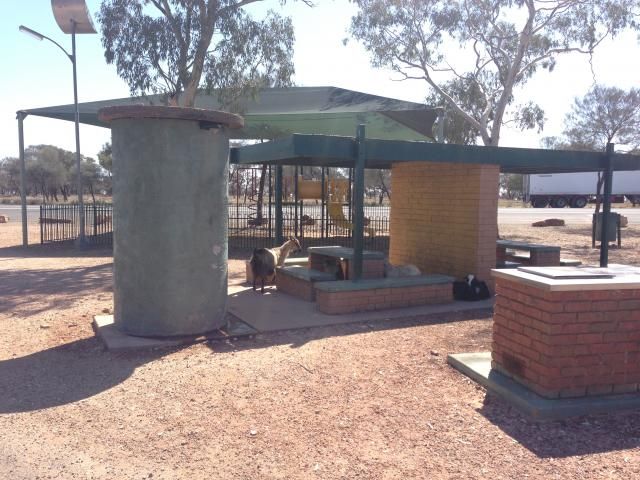 We emptied out and filled the bikes from the jerry cans here so we didn't need to stop again until Cobar. We took our time, admired the wild goats roaming around, ate, had a drink, no hurr today.
There were less goats and emus along here today, but it wsn't devoid of them. One emu moment kept us both busy, the rest were well behaved.

We arrived in Cobar about 1.45pm with plenty of time to spare for the 36 hour time limit for the 2564k's done. It was warm, 32.5c but we were both feeling good so some refreshments were taken and the decision to push on was also taken. The ride had now turned into a two day trip to Port Augusta and back, I was happy with that decision.
Here we are at Cobar.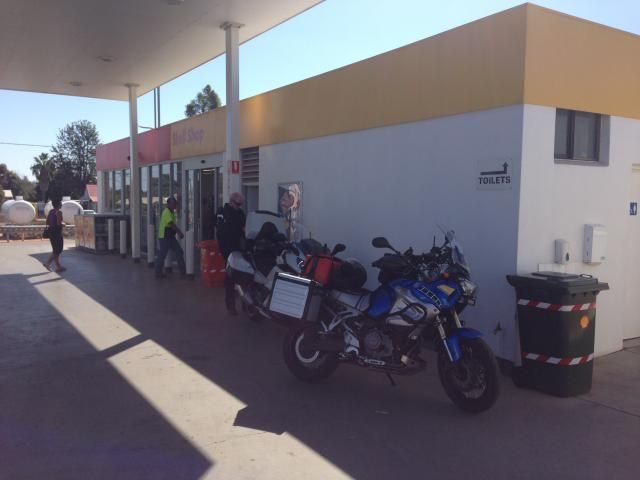 We stopped food stop at Nygen! Not really planned but I sensed that IT needed something other than fruit and nuts, I was good for another day or so. The manager at the BP told us about the swarms of Rebels heading west. He was a very nice young guy who chatted happily to us while we ate.
Gilgandra for fuel and set-up for night riding as darkness descended. Again, a few roos en-route back to Newcastle but no real dramas. Lots and lots of bugs though either side of Mendooran. We were on a good steady pace, little traffic and only one "wee" stop at Merriwa. The Golden Highway past the back of the Singleton army base is normally a killing field for roos but tonight we were blessed with smooth passage. We both had sufficient fuel range for the haul back to Newcastle.
Back into the traffic from Greta into Newcastle. Well ahead on the schedule for the SS2000M and both feeling great.
We arrived at the Lambton servo with plenty of time to spare and were met by one of the Long Distance riders who had seen us off the previous morning. He'd been watching our spot trackers and decided to drop over to welcome us back. This is one of the great things about the LD riding community. By Google Maps we'd done enough k's, by my odo we'd done enough but the odo on the K1600GT was a few k's short.
So we fuelled up and rode south to McDonalds at Swansea to push IT's odo over the requirement (despite not having to to qualify for the ride) and also had a late night crack at a couple of McChickens. The security guard at McDonalds proudly showed us his Yamaha XVS1100 in the carpark and was more than willing to sign our witness forms at 11.30pm, 3.5 hours to spare.
We had done it, with some bug carnage on the way.