I had organised a couple of rides today, but as things go plans change and the one I was to go on was with a fellow long distance rider, IT, who was keen to have a crack at his first IBA SS2000K. Essentially this means he wanted to ride 2000km in 24 hours and I was going along to keep him company and keep an eye on things having done this distance and more a number of times.
We met at the local servo shortly before 3am and with the much appreciated assistance of two other long distance riders OX-34 and 93TigerBill we did the paperwork and got ready to leave. Iron Butt riders seem to spend a lot of time at service stations in the wee hours.
We left Newcastle at 03:00 (AEST) and rode wouth on the the M1 (F3), M2, M7 and onto the Hume Highway/Freeway, our first stop was the Shell near the big Merino in Goulburn 344kms away. This is the first time I've taken the Super Tenere past Marulan for fuel. I was pretty happy I made that distance. The next stop was past Wagga Wagga at Gillenbah arriving on fumes again. It's always nice when you can squeeze an extra 90k's out of two fills, over a long ride there's plenty of time to save if you can "not stop" as often (obviously).
Gillenbah
From Gillenbah we rode through Hay South getting fuel at Balranald. Then we dipped into Victoria for a while through Mildura and then into South Australia to the next fuel stop at Renmark. Until that point we were right on schedule with an overall average speed of just over 96kph.
We left Renmark and I got a touch lost for about 10k's which required a U-Turn but soon enough we were winding our way north westish towards Burra. A few k's before Burra we stopped for a drink and to gear up for the dark while we watched the sunset for a while. I took the time to fill up from the jerry can so we wouldn't need to stop again before Port Augusta.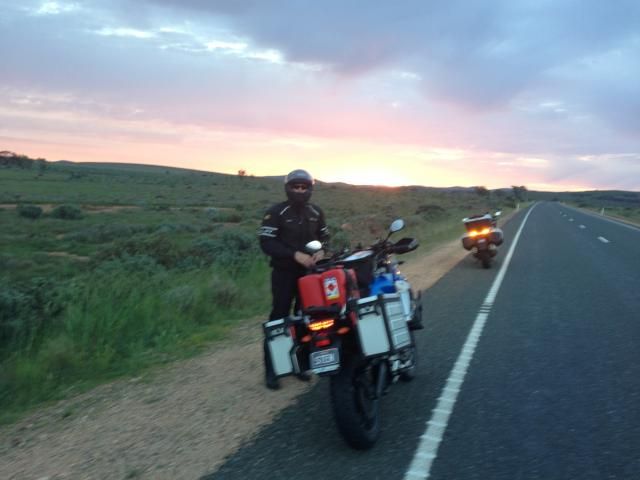 After Burra, in the dark we rode through the lovely green hills I know were beyond the headlights onto the highway that heads though Port Pirie and arrived in Port Augusta at 8.50pm only 16 minutes behind schedule with 1697kms done and dusted.
A quick turn around there and up the way too much fun Horrocks Pass to Wilmington where we stopped for a quick chat with some LD Riders we recognised as we rode past the pub. The all business to Yunta for the first meal of the day, a dry pie for me and a chicken sanga for IT, a coffee a short break to get ready for the last leg of today's ride. We were behind schedule but not pressed for time.
The landscape between Yunta and Broken Hill is pretty desolate but beautiful in it's own way. Once again on this trip though we didn't see much past the side of the bitumen except the odd tree and kangaroo.
We arrived at Broken Hill at about 1.50am AEST with a full 2110kms done for the day and feeling pretty pleased. I had booked some accommodation nearby so we headed over for a well earned rest and found ourselves amidst the Rebels migration west for their annual get together. Our key wasn't left out so we waited politely for the reception staff to come back to the hotel and check us in. Soon enough I hit the ZZZ's. Tomorrow depending on how things go we might convert this ride into a BB2500K/36 or n SS2000M (3220kms in 48 hrs).
Here is the plan for the BB2500K a long rest available if we need it.